HAPPY NEW YEAR!
Welcome to the January issue of my monthly newsletter !
This month's edition looks at the new mortgage rules that just came into place and budgeting in the New Year.
Please let me know if you have any questions or feedback regarding anything outlined below.
Thanks again for your continued support and referrals!
---
Mortgage rule changes explained

By now, we're all aware of the major mortgage rule changes that have started to come into effect at the start of the year. To recap, in October, the Office of Superintendent of Financial Institutions, or OSFI, introduced tighter rules on mortgages set for Jan. 1, 2018. While there were several changes announced, the biggest affects consumers with uninsured mortgages, who must now undergo a qualifying stress test. More specifically, under the new rules, non-insured mortgage consumers (buyers using a conventional mortgage with a down payment worth 20 per cent or more of the purchase price) must now qualify using a new minimum qualifying rate.
The minimum rate will be the greater of the five-year benchmark rate published by the Bank of Canada or the lender's contractual mortgage rate plus two percentage points. The stress test for non-insured mortgages applies to both fixed- and variable-rate mortgages.
The new qualifying rules effectively reduce the buying power of a consumer with an uninsured mortgage by 20 per cent, according to industry experts. Paul Taylor, the president and CEO of Mortgage Professionals Canada (MPC), a national association that represents the mortgage industry, described the impact of the new rules as a "purchasing power haircut." And he's concerned just how much impact the new rules will have on the real estate market and economy in general.
While Taylor doesn't expect major price reductions in hot markets like Vancouver and Toronto, he suggests it could be more detrimental to struggling economies in other regions of the country like the Prairies and Atlantic Canada.
"Reducing the number of people who can afford those homes now is only going to exacerbate the problem," he says, adding that when someone's largest asset loses value, they tend to spend less. "When house prices come down, you can potentially create a recessionary environment in pockets across the country."
How we got here
For the government to poke around the mortgage industry is nothing new. In October 2016, Ottawa introduced a number of changes including a stress test that meant all new or insured mortgages needed to qualify at the greater of either the Bank of Canada posted rate for mortgages or the contract rate plus two percentage points.
It caught the mortgage industry off guard. In the months that followed, it also galvanized organizations like MPC to lobby politicians and bureaucrats in Ottawa on behalf of the industry. Now, MPC is calling on the federal government to reduce the new stress test to three quarters of a percentage point. If someone is locked into a five-year term, their equity and income will likely increase during that time, Taylor explains, but the proposal also meets OSFI's intent to encourage a more risk-averse lending environment.
In response, officials with OSFI provided background on the proposed rule changes. A spokesperson for OSFI explained that the regulator's job is to "prepare federally regulated financial institutions to navigate a number of severe but plausible scenarios, while continuing to provide financial services to Canadians and maintaining the confidence of the public." "As residential mortgage lending represents a material portion of activities at many federally regulated financial institutions we regulate, it is important that lending practices in this area be governed prudently and with appropriate risk controls," the backgrounder continues. Predicting how housing and economic environments will develop is challenging, but OSFI recognizes the potential risks caused by high household indebtedness across Canada, and by high real estate prices in some markets. OSFI reviews its guidance on an ongoing basis to ensure it is aligned with industry practices and! the evolving financial services environment. We are not waiting to see those risks crystallize. Rather, we are being proactive and adapt our standards to the evolving housing markets and economic environment."
Those feeling battered by all the new obstacles can take heart, though. The head of MPC doesn't expect any further changes until after the next federal election in 2019. "I'd like to think they're [the government] done," Taylor says. "I don't have a crystal ball, but my suspicion is you won't see much else.
Making 2018 your turnaround year

It's become a bit of a cliché to talk about resolutions at the start of the New Year. You're going to be inundated with pitches to exercise more, "eat right" or pick up a new hobby. These resolutions start out with the best of intentions but ultimately most of us can't manage to keep them. Within a few days or weeks, we're back to our old habits. Perhaps only a psychiatrist knows why we can't keep our resolutions. While giving up the sweets might seem like an impossible task, getting into some good financial habits at the start of the year is easier than you think. And there is no better time to look at what you might be doing right and perhaps wrong when it comes to your finances and make a change to see a more prosperous 2018. These are by no means brand new ideas but rather tried and tested concepts worth considering.
Set and write down your financial goals for the year. Having these goals written down will help you stay on task. Review them as often as you need to.
Review your household budget. Sometimes we get caught off guard by just how much money we're spending every month. Take a good look at those expenses, and if there are a few items you can cut, go for it. Everyone has something they spend their money on they think they can't live without. But being fiscally responsible takes some discipline.
Pay down your credit cards. Credit can be a great thing. It helps get you out of a bind when you need it, or help with an important purchase you can pay for later. But having too much credit-card debt can hurt in the long run. Try to pay off as much of your credit-card debt as you can. Every little bit helps.
Plan for an annual review day. That means sitting down with your accountant, financial planner, even your mortgage broker to see where you are with your finances. Can you pay a little more for your mortgage? Is there a new government policy or an investment that you haven't heard about from which you could benefit? Financial professionals are up to speed on all the latest options and can advise you accordingly.
Be realistic. We're constantly squeezed between the things we want to buy and the bills we have to pay. You're not likely going to go from zero to hero financially in a month, but taking a few easy steps, making good choices and chipping away at your debt will start to pay off.
These are just some basic tips to follow. With so many experts and places to look for financial advice, there's really no excuse not to use the turn of the calendar to get started.
HOMEOWNER TIPS…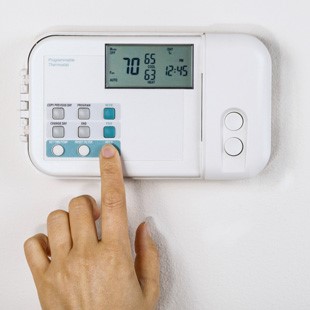 Let the heat reach you:

Dust or vacuum radiators, baseboard heaters and furnace duct openings often and keep them free from obstructions such as furniture, carpets and drapes.

Replace/Clean Furnace Filters:

Check and clean or replace furnace air filters each month during the heating season. Ventilation system filters, such as those for heat recovery ventilators, should be checked every two months.